Rug Rescue – First Aid for your rug
Eliminates odours caused by urine, vomit and faeces.
The Rug Cleaning Company has the perfect product to keep your rugs smelling as fresh as a daisy when those little accidents occur.
Rug Rescue is an enzyme based product which eliminates the bacteria which cause the odour.
Perfect for a quick and effective carpet cleaning treatment after accidental soiling on rugs, carpets and hard flooring.
Severe stains and odours many require the expertise of our trained technicians.
To bring your rug back to life, contact The Rug Cleaning Company on 1300 My Rugs 1300 69 7847.
Our professionals are expert at removing a range of stubborn odours and stains which will help to extend the life of your rug and keep it looking its best.
Rug Rescue is available exclusively from the Rug Cleaning Company.
RRP $15.00/240ml bottle.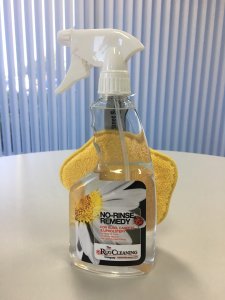 No Rinse Remedy
This is a new technology that produces amazing results on water soluble  spots and spills. No need to rinse, just apply, clean and allow to dry.
Available exclusively from The Rug Cleaning Co.
RRP $30.00 500ml bottle